Information Sheets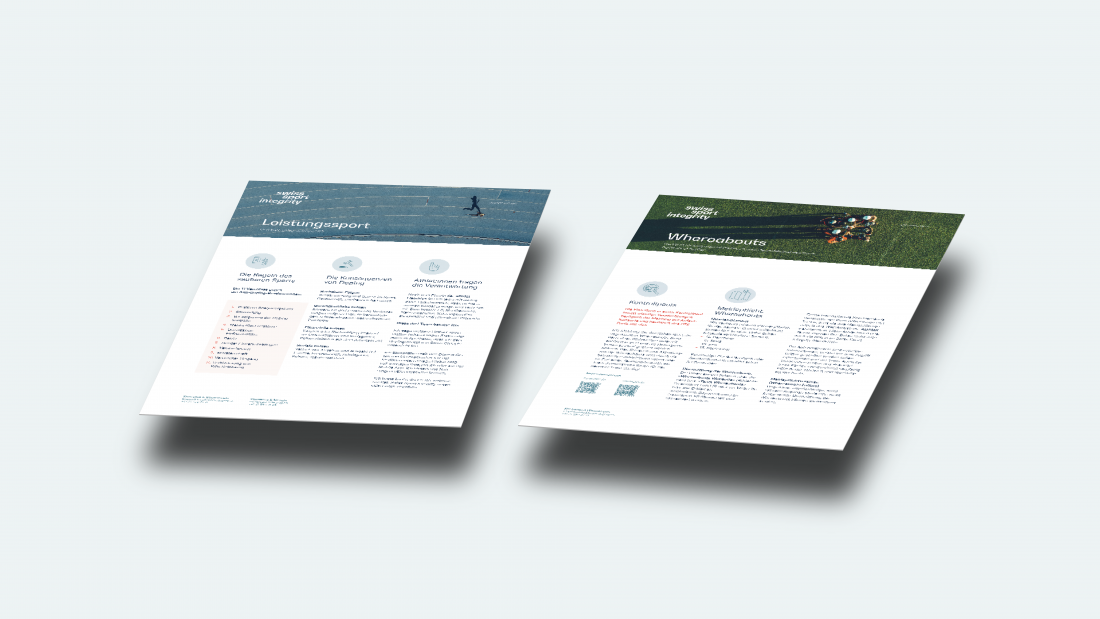 Videos
Watching the video about doping control will give you more confidence during your next testing procedure.
Olympic champion Tyler Hamilton had sanctions imposed on him as the result of a doping offense. In these videos, he reflects on his time as an elite athlete, and the critical decisions he made. He provides specific tips for athletes and their parents.
Offers for National Teams
In addition to using the Clean Winner program, numerous federations also use squad sessions to convey the most important rules of conduct. The athletes are educated in workshops by instructors from Antidoping Switzerland. The instructor offer can be provided in consultation with the sport federations.
Offers for Coaches and other Support Personnel
For support personnel wanting to find out the key information about clean sport, we would recommend using the corresponding Youth + Sport offer.
Offers for Parents
The canton of Zurich also provides a comprehensive toolbox for parents, which contains a factsheet on anti-doping under point E.05.
Toolbox for parents handbook from the canton of Zürich (in German)
Parents' Info
Take part in one of our "Parents' Info" online education sessions and support your child in doping prevention. Learn more about anti-doping rules as well as doping risks and get specific advice for sports parents.
| Dates | Language | Registration |
| --- | --- | --- |
| 08.11.23, 20:00-21:00 | French | Registration |
| 09.11.23, 20:00-21:00 | German | fully booked |
| 15.11.23, 20:00-21:00 | German | fully booked |
| 22.11.23, 20:00-21:00 | Italian | Registration |
| 29.11.23, 20:00-21:00 | German | Registration |
Offers for Swiss Olympic Schools
Swiss Olympic has teamed up with Swiss Sport Integrity to provide the Swiss Olympic Partner Schools and Sport Schools with "Olympic Spirit" teaching materials for secondary education levels I and II. This provides students with the opportunity to familiarize themselves with relevant tips, as well as to run through exercises relating to the anti-doping regulations. As a complement to these teaching materials, schools can also book an instructor from Swiss Sport Integrity.
Inquiry for an education session
Background Information for School Work
A range of background information is available for school work relating to doping. This extends beyond the knowledge, which is directly relevant to athletes.